Join Dystonia Ireland at the vhi Womens Mini Marathon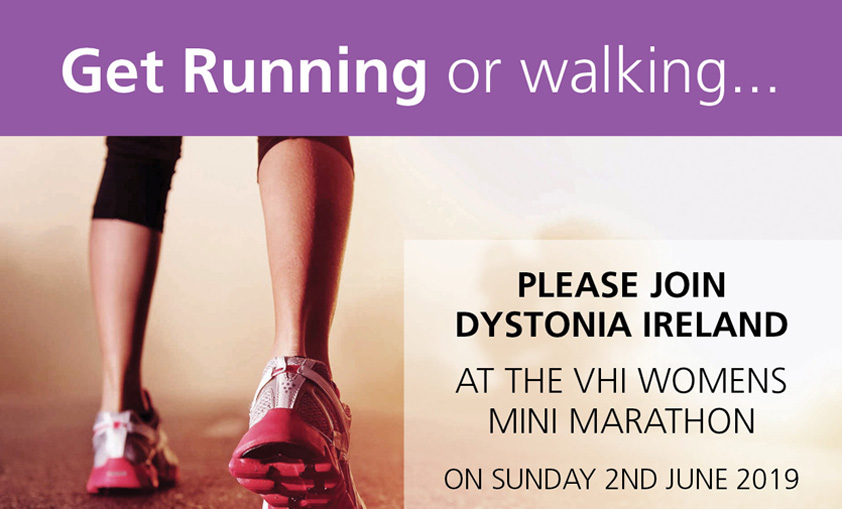 Please join Dystonia Ireland at the VHI Women's Marathon on SUNDAY 2nd June 2019. Every year our friends take part in the VHI Women's Mini Marathon to raise much needed funds for Dystonia Ireland. Please get in touch if you would like to take part and join us on the day. We will provide free t-shirts, sponsorship cards and post race refreshments. For further information…
Date: SUNDAY 2nd June 2019
Time: 2.00pm
Entry closing date 21st May 2019 or when maximum number of entries is reached.
Please get in touch if you would like to take part on the day. For more details contact Maria at (01) 4922514  Email: info@dystonia.ie
After the Mini Marathon, as a little "thank you", we have arranged tea/coffee and a selection of sandwiches to be served free of charge.   These will be served in The Schoolhouse Hotel, 2-8 Northumberland Road, Ballsbridge, Dublin 4. Telephone No. 01-6675014
Please note that those of you who cannot partake in  the  Women's Mini Marathon would be very welcome to join us in The Schoolhouse Hotel for Tea/Coffee and sandwiches free of charge . We  would be very grateful for catering purposes only if you could inform us of your attendance. Looking forward to meeting many of you who are available to be with us on the day!